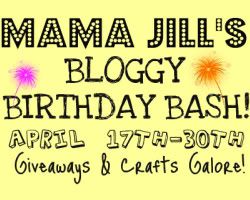 Ok first off if you haven't been parting with
Mama Jill
, you are going to want to start. Take it from this Hilton, she knows how to party. For example it is her Birthday today, so guess what she is having an entire week of fun tutorials and give aways on her blog. Jill you rock and that is why I am super excited to be hanging out with you on your blog today and sponsoring a Free Give Away. So head on over to the link below and join the party. You could win a new pretty!
http://mamajillblog.blogspot.com/2011/04/giveaway-tlc-creations.html
Winner will be getting a new hand made belt from my shop
TLC Creations and there are 4 fun choices to choose from!!!