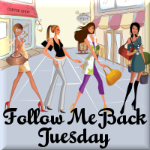 Join the fun and link up at:
http://www.boobiesbabiesandablog.com/
and how about a
Mid Week Mingle @ Graphic Design by Tara
http://graphicdesignbytara.blogspot.com/2011/05/mid-week-mingle-blog-hop-510-511.html
You can find these buttons at the bottom of my blog under the places I party! Yes my last name is Hilton and I do party like one. LOL that is if you count a 1/2 glass of wine, and lights out @ 10:00 pm a party!
If you are new to my blog leave a comment so I can get to know you. Please check out our
Free Give Aways
at the top of the blog, on the Give Away Page.