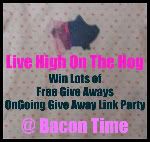 I have decided to add an
ongoing give away link party
to Bacon Time!!!
I personally love linking up my free give aways and thought this would be a nice feature to have for you all to enjoy and use. You will find the give away linky on my
right side bar
(for now unless it gets too big). I would like you to add your link with a short description and an
end date
. This way I can delete them for your convenience when they expire. Please feel free to tweet, facebook, and blog about this new give away link party.
You will notice too I have a $100 value Blog Bash 2011 Give Away going on now, hope you will enter for a chance to win! I can't wait to see all the great give aways linked up in one spot!