Welcome! I am the owner of www.etsy.com/shop/Mindiemay. We offer enchanting jewelry, hair accessories, bridal items, luxurious perfume oils,temporary tattoos, our Just Right Chunky TM clothing, screen printing, and more! All made in the Sierra Mountains, of Northern Ca. Here I share many secrets, including my weight loss story, jewelry tutorials, crafts, my award winning recipes, giveaways, and my recent breast cancer journey. Please join our weekly Anything Goes linky party.
Friday, July 15, 2011
Party Mindie Style #6! Any Linky Goes!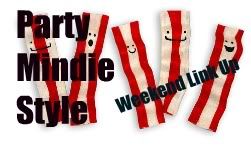 Note: If you need a smaller party button there is one on the lower right side bar of this blog.
Current give away enter here!
Posted by

Mindie Hilton
at 1:27 PM