Mi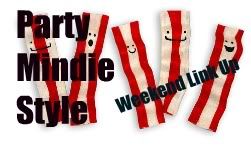 Well it's my Birthday Saturday and I just wanted to give you all a sneak peak at the cake I made to help celebrate. Inspired by Craptastics cute cupcakes a few linky parties back and my blog mascot. I will share more on this next week.
In the mean time you know what to do,
link up your blogs, Etsy, facebook, twitter, crafts, recipes, and more
. You are welcome to link give aways up here to and preferably in the
ongoing give away linky
(see right side bar for the page).
Please
follow won't you with GFC
, I always follow back. Just leave me a message below if you are new.
I always follow back on Twitter too BTW :)
If you would
grab the link button
too that would be great. Post it anywhere on your blog or add my link to your library (what ever works for you, works for me, I am not picky).
While you are here, please take a minute to check out my Free Give Aways, we have a lovely sponsored give away from
Ninth Street Notions
and a surprise birthday give away from yours truly happening over at Someday Crafts
(BTW it's a $75 dollar value!!!)
See Give Away Page
Here
.
PS, I am having a Birthday Sale for Bacon Time Friends at my shop TLC Creations!
Use Coupon Code Birthday15 to Get 15% off! Shop
Here
Thanks for coming to my B-Day Party Linky!