Well I interrupt this regular Tackle it Tuesday Craft Tutorial to make a few announcements.
1) If you would like to be a
guest blogger
on Bacon Time leave a message below so that I can contact you. I would love for you to share a
new craft post
. When you do, I would love to include a small bio about you, your blog, and your Etsy shop if you have one.

2) Would you like to promote your site on Bacon Time with a
free give away
? If so leave a message below and I will be in touch. For now I am offering
free advertising
when you do, at the top of my blog, for one month!
I also link my give aways up to over 75 other sites!!!!!
I only wish I could get someone to work this hard for free for me.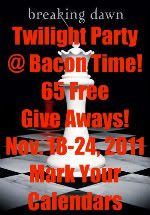 3) See that Twilight party button on the right side bar up for grabbing along with all our sparkling Etsy shop sponsors. Yes we are going to have an epic party here at Bacon Time with
65 free give aways
!!!! If you would like to do a button exchange with me, this is the button for now that I would love for you to grab. If you grab this button I will grab yours too! Again just let me know that you have grabbed it with a comment below so I can grab yours. If you would like to be apart of this give away event, we could always squeeze in one more.
Don't worry crafters, I will be back next Tuesday with a fabulous craft tutorial, just needed to make these brief announcements.
While you are here enter my free give aways please! We had a new one start yesterday courtesy of Six Sister's Stuff for a beautiful pom pom necklace and four more give aways ending real soon. See the right side bar for the give away page.