For years I worked full time outside of the home, and always found myself presentable early in the morning. Now as a full time stay at home mommy blogger, I find I have fallen out of this routine.
I typically wake up at 5:00 AM to spend time in blog land before my boys wake up. I do this at the kitchen table, with coffee, of course in my comfy robe, and still with pillow face and hair. I usually don't get dressed until later that morning when I take the kids for our daily hike. At this time I slip out of the unattractive robe and into even less attractive attire of work out clothes. By the time we get back home, if I am lucky, my toddler will take a quick nap so that I can clean myself up. This is usually enough time to shower but not apply makeup or fix hair. Sometimes I find myself running for my robe, as my toddler wakes in the middle of my shower. Which is why it is not odd for my husband to come home at 3:00 PM and still find me in my robe. I sure hope I am not alone in this rut. If you find you can relate, I would love to hear about it.
Alas there is hope. Us blogging mommas can occasionally find time to wash and blow dry our hair, apply make up, and even pull together a cute outfit with fun accessories. It might not happen as often as we would like, but when it does, well to quote Shania Twain "I feel Like Woman" and it's nice. So where does this inspiration come from? Sometimes it's from a new dress. My husband noticed me folding the page to a particular catalog, and ordered me a dress I had been drooling over. I like to think that it's because he really loves me, but maybe this was his last hope at seeing me out of that robe, lol.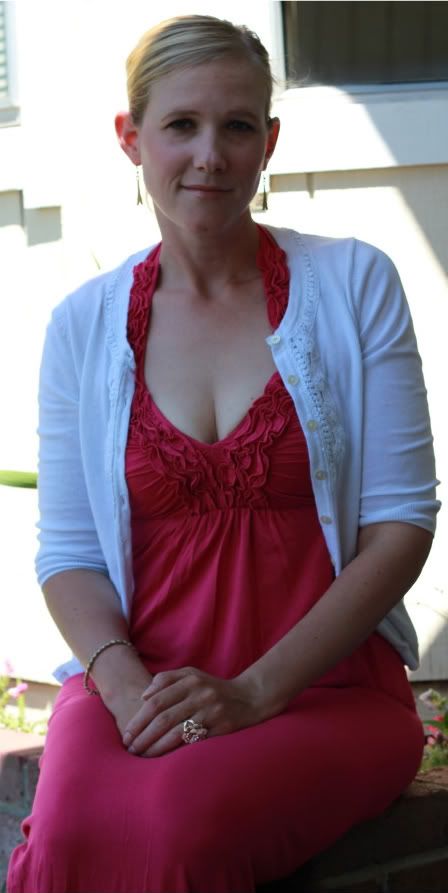 My birthday dress from hubby found in the Body Central catalog. Eiffel tower gold earrings from my own shop
Here
, cardigan on clearance from Old Navy, and tennis bracelet from my momma.
Then sometimes inspiration comes from another blogger. Nicole at
Crafty Soccer Mom
had a fun give away on her blog. I won the give away she had, and if that wasn't cool enough, she sent me a little extra surprise. You can shop her great collection at
Designs by Nicole
.
Love my new "I Heart Twilight" earrings from Nicole at Crafty Soccer Mom.
Just wanted to show you how nicely packaged they were. I won the pair on the left and Nicole surprised me with the other "I Heart Bacon" pair (how did she know, LOL)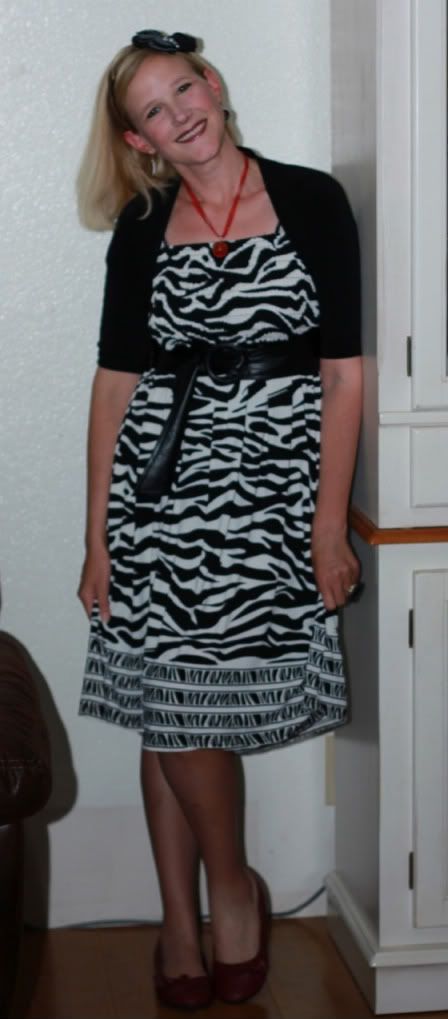 What am I wearing you ask (LOL I know you probably aren't asking, but just in case) shoes on sale at Payless, dress $18 at Walmart, shrug B. Smart brand (I think from Ross but not sure), belt can't remember, headband made by me, apple necklace made by me, black cocktail flower ring made and gifted to me from sweet Jenni at Kissed by a Frog , and Twilight earrings by Nicole.
Well as you see, I can occasionally find myself out of a robe or sweat pants, and you know what, it's kind of nice, I am betting my husband agrees ;)
If you have recently been inspired to treat yourself to a little TLC and would like to share pics, leave a comment and link below. Thanks again to my sweet husband, Nicole, and Jennie for helping me get out of my robe rut (and yes as I type this, it is noon, and I am in my robe once again) baby steps. ;)
Linking up at
LMM
,
Rock Your Runway
, and more (see my page of where I party on right side bar please).