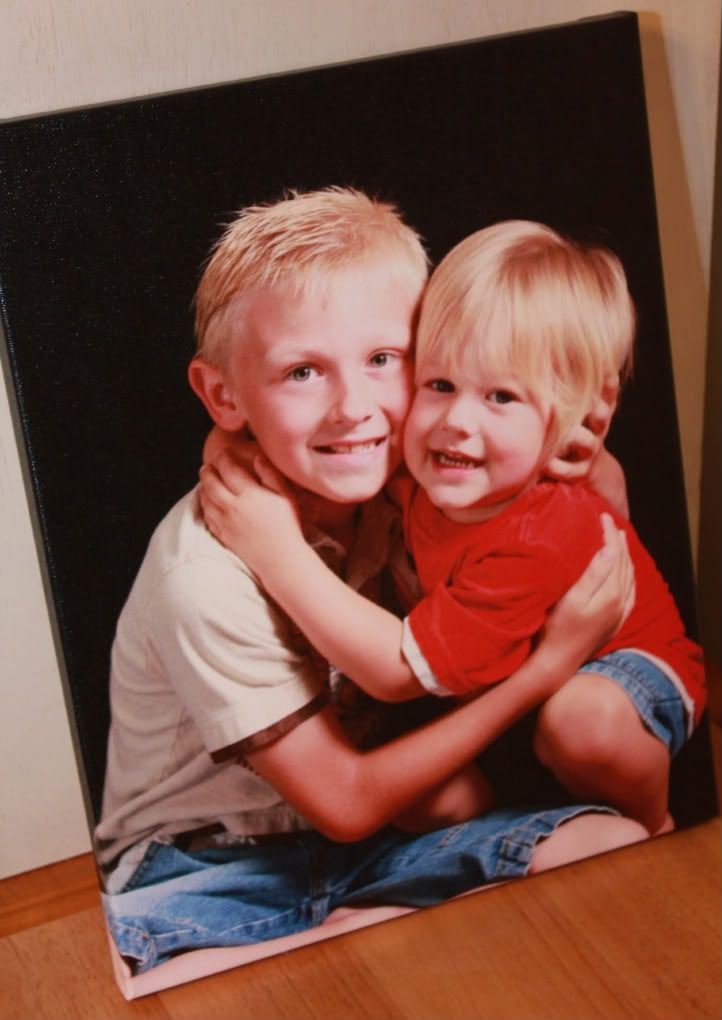 You probably have gathered that I have two boys. Although if one were to walk through my home, they might only think we had one child.
Why you ask, well you see as I am sure many of you can relate to, with a second or third child you seem to have less time for taking photos. With my oldest, we had professional photos taken every month it seamed to document his first year. With my second, we have not had as much time. We have taken our own digital pics but have failed to get any prints up all the wall. With him now two years old, I am starting to worry he might feel a little left out if this doesn't change.
When Easy Canvas Prints contacted me and asked if I would be interested in reviewing their product, I immediately said yes. I was relieved to know I would soon have at least one picture of our second child up in our home. The ordering process was "easy", the only hard part was deciding what image I wanted to use. When my order arrived (quickly I might add ), I was more then relieved, I was filled with joy as I admired my two handsome young men captured for an eternity on a beautiful canvas. I had more then a new piece of wall art, I had a new family keepsake, capturing a moment in time. The moment my husband, who has a passion for photography, set up a photo shoot in our living room, for our two little men. Having my husband as the photographer made this even more special. Time passes by all too quickly, but a moment can be captured forever on film. Thanks to Easy Canvas Prints, we now can share those memories with everyone who enters our home.
I was so excited to get my new treasure, I knew exactly where I would put it. Can you guess where it's going to go?
PS, yes that's your Bacon Time Momma in those family pics before I lost all that weight.
To capture your own memories in time head to: