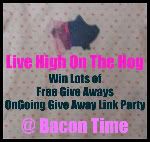 This linky can always be found on the right side bar under the "Give Away Linkies" page for your convenience. I will also start posting this linky every Thursday morning to increase traffic to your give aways.
If you are entering to win, Good Luck! Again, don't forget to put an
end date
so that I can delete it for you when it expires.