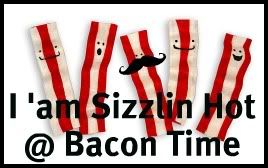 This week I want to start by giving everyone that reads and participates at Bacon Time a huge
THANK YOU! I have many things to be thankful for, my family, two healthy boys, a loving husband, good food, and a roof over our heads, (that hasn't always been the case). Yes there were times we were broke, struggling, and down right in need of support from our families. Through it all we remembered to be thankful for the things that really matter, family and friends. With that being said, and forgive your bacon Mama for getting sentimental, know that I am thankful to have the opportunity to share my passions in life with you, and even more thankful that you visit Bacon Time. I wish you all a very safe and a HAPPY Thanksgiving.
Now onto some fantastic features from last weeks linky party.
Stubbornly Crafty shared this Turkey Pillow (applique) Tutorial. Such a cute Fall accessory.
Grab a featured button if you need one.
Happy Thanksgiving!