Well this is a fun What I Wore post. This is the 4th year we have continued our tradition of sending photo Christmas cards to family and friends. I will be sharing a digital card with all of you later this week. I will also be sharing an easy no sew craft, for some cheesy keepsake family Christmas sweaters. Plus, it's the big hair color reveal post. Thank you all for your helpful advice. You may have missed the post where I discussed my husbands desire for me to go burgundy, you can catch up
here
.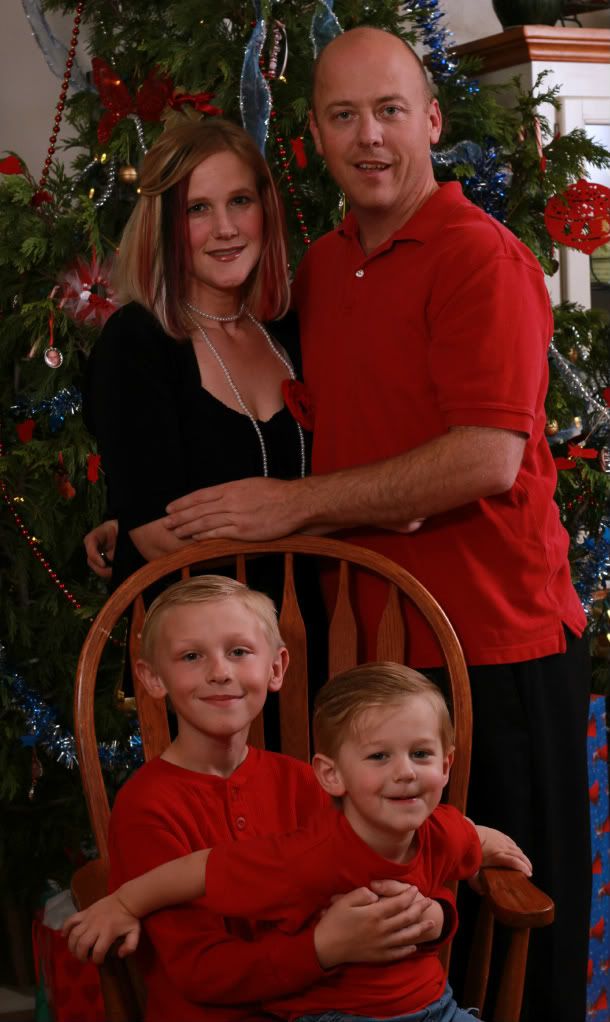 My husband took all of these pics, with a remote control to his camera.

Cheesy Keepsake Christmas Sweater No Sew Craft
It wouldn't be Christmas, without some cheesy Christmas sweater pics. I do consider myself to be somewhat fashionable, so yes I am aware these sweaters are a fashion faux pas, but that was the point. These no sew holiday sweaters double as a keepsake, since we made them with our hand prints.
Supplies:
Sweatshirt(s) (old or new)
Scrap Fabric Triangle Shapes (for heads)
Scrap Fabric Red, Black, or Brown Circles (for noses)
Scrap Fabric or Buttons (for eyes)
Brown Fabric (for hand print antlers)
Washable Super Fabric Bond Glue
Now since I new we would not be wearing these often, and I wasn't worried about them falling apart, instead of sewing everything on, I just used fabric glue. You will want to do this in a well ventilated area, and wash hands very well afterwards, since glue is toxic. I chose to sew buttons for the eyes on by hand, but you could have glued them, or used fabric instead to keep this 100% no sew.
We went out to dinner after our family photo shoot, and everyone quickly took off the sweaters, except for little Lucas, he loves his.
Ignore my bra strap, another fashion faux pas, we are talking about the hair now. First I have been so busy, I haven't even managed to get into the salon for a much needed cut, so I gave myself about a 2 inch trim!!! I know crazy right, it is actually pretty easy to do. My hair is longer in front, and shorter in back, or as it's called an inverted bob. All I did was part my hair as I usually wear it, then pulled it into a pony tail in the back, and trimmed off about two inches with my scissors. I don't recommend cutting your own hair, please don't try this, but it is how I get by when life is crazy, and I can't make it into the salon. So if I didn't make it to the salon, you are probably wondering about the burgundy and black highlights. Well I have a secret, I couldn't commit to the change, at least with not trying it out first. The highlights are from clip in real hair extensions! For about $15 I ordered these extension clips in burgundy and black. Now that I have tried the color out, I must say, I kind of like it. However I am still not sure if I want to commit to the up keep of coloring often, since my hair grows pretty quickly.

As for the necklace I am wearing, it is simply a fashion pearl necklace that I clipped a rosette pin I made to. Another fun way to make a quick fashion change, with out having to commit to anything.

Well I would love to hear if you are considering a color change, and if you would choose to do the clip in extensions vs a real commitment.
I would also love to see your cheesy Christmas sweater pics, so please join us for our weekly Anything goes linky (Friday through Monday) and share your pics.

Happy Holidays!

To see where I party, check out my LINKY LOVE page.