Last Spring I shared the bunny I made pictured below, but never a tutorial. I have had some requests to share one, so here it is:
Materials you need:
Fabric
Thread
Thick Crafting Thread
A Button
Cotton Filling
Directions:
Remember it will look smaller when it's completed since you will have a small seam.
Keep in mind if you make it too small it will be hard to flip inside out after you are done sewing.
Remember to sew the bunny pieces together with the good side of the fabric facing in. You will need to leave an opening on each piece so that you can flip them inside out and stuff each one after sewing.
You will want to use the end of a rounded pen to help push your cotton filling into the narrow legs, ears, and arms. Then you can sew up the ends with your sewing machine.
After you have sewn all of the ears, arms, legs, and tail to the body, you can add facial details with a button nose, eyes, and whiskers. Again I sewed the button on by hand. I used thick brown thread to easily stitch on some eyes. The whiskers I simply tied around the button after it was sewn on.
Little Mr. Hopperton (as we decided to name him) wishes you all a Happy Easter! He was a sweet surprise for my little Lucas this morning, who has a cold. Hoping he will feel better by this Sunday, since it's not only Easter but his 3rd birthday!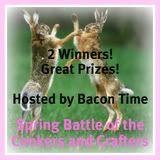 Don't forget to get your entries and votes in by April 8, 2012 for our Spring Battle of the Cookers and Crafters!
To see where I party, check out my Linky Love page.