This weeks what I wore fashion post is going to be a little different. I usually take pics every Saturday with my husbands help, and since he has been gone out of town all weekend trying to catch a bad guy for work, I wasn't able to take any decent pics. I do however have something fun to share with you all. I have been on a real vintage fashion kick lately. I have bid on a few vintage dresses recently. Crossing my fingers I win the auctions. I thought I would share those vintage dresses with you today.
This vintage 1970s dress, pictured above, I am currently winning in an auction. Hopefully it will make an appearance in a what I wore post soon. This dress is being auctioned off by
Park Avenue Pin Up
on Ebay. Love this seller, I have added her shop to my favorites.
I am loving the red accessories paired with this dress, so I am also bidding and currently winning this red necklace pictured below.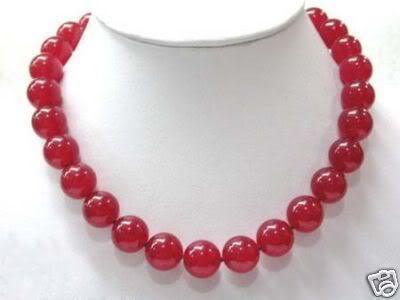 This necklace is being auctioned off by
Liquidilan
on Ebay.
Can you believe I don't own a solid red belt? Well I will have this one soon enough because I ordered it yesterday for $5.68 with Free Shipping, from
Shiny Kingdom
on Ebay. I believe they have more available if you are interested.
Besides the red accessories, If I win that vintage dress I am coveting, I think it would also look fabulous with yellow accessories. Can you believe I don't own a solid yellow necklace or belt? Well hopefully I will soon since I am bidding on this necklace and belt pictured below.
The yellow necklace is being auctioned off by
Quingmos
and the belt is being auctioned off by
Judy Sky Fly
on Ebay.
Here is one more vintage 1960s dress that I am currently winning and bidding on from
Park Avenue Pin Up
. It too will look great with red accessories.
Well that's what I will hopefully be wearing soon. I can't wait to have a vintage photo shoot to share with you all. I would love to know if you all enjoy shopping vintage. Please let me know in a comment below.
Please join us each week for our Anything Goes linky every Friday to Monday.
To see where I party, check out my LINKY LOVE page.
4/16/2012 UPDATE... I won that first dress pictured in the auction today, and for only $9.99 too! Expect to see it in a what I wore post soon :)