This is a Sponsored post written by me on behalf of
POWOW Messenger
for
SocialSpark
. All opinions are 100% mine.
If you own an Android phone like me, then you will want to download the app
POWOW Messenger for Android
. POWOW is the only text messenger that lets you include anyone on any mobile phone in your circle of coworkers, team, neighbors, family and friends. It will let you group message with reply -all. You can still do one-to-one messages, so there is no need for two apps. You can also "ZipIT" or blacklist unwanted texters. Now you don't have to waist time seeing unwanted notifications or unwanted messages, or you can simply mute notifications and still receive messages.
Just think about how much time POWOW will save you!
If you own an Android 2.1 or up you can download the app and start saving time with your text messaging. You can download the app here at
POWOW Messenger for Android
. Once you download it, you will see their Quick Start Guide pictured below on my phone: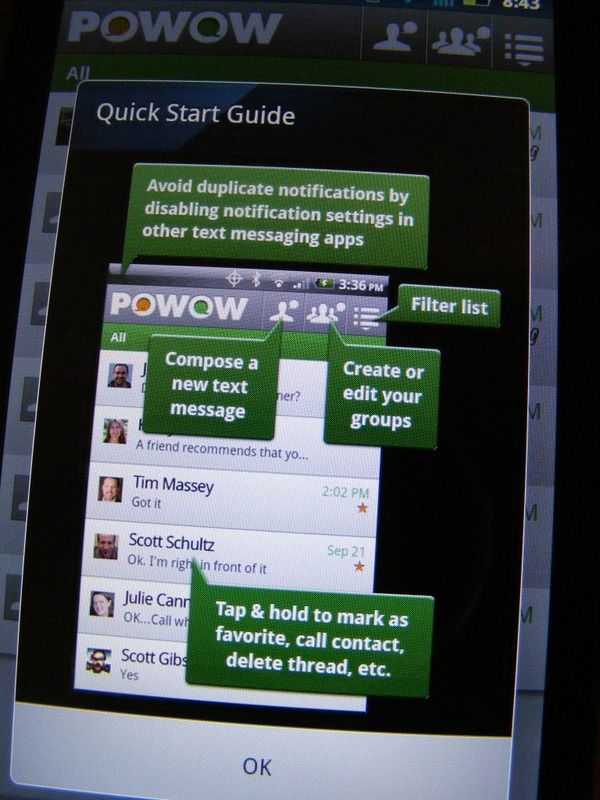 As you can see, you can avoid duplicate notifications by disabling notification settings in other text messaging apps. You can filter your list. Create or edit your groups. Compose a new text message. Simply tap and hold to mark as favorite, call contact, delete thread, etc.
The first thing I did was text my husband. Then I set to work creating my different groups. For example, if you have a weekly book club, you could add all the members into one group, and stop having to send 10 different text messages out each week for reminders. Coaches could easily put all of their team players into one group, and easily text the group to let everyone know when the next practice or game was.
Another great feature of this app is voice recognition for your text messaging, so you can speak your text rather than typing. You can also access your call setting and make phone calls with one easy click. That's not all, there are many more wonderful features on this app. To learn more about this great app head to
POWOW Messenger for Android
.
So what groups will you create with POWOW?
If you download the App, please let me know what you think in a comment below.