This is a Sponsored post written by me on behalf of
Quaker Oats
for
SocialSpark
. All opinions are 100% mine.
I am so excited to tell you all about my families favorite new snack, a
Quaker Soft Baked Bar
. As a hypoglycemic, it's important for me to enjoy frequent small meals, high in fiber and protein. Of course everyone can benefit from eating healthy snacks and
wholesome food
. These new bars from Quaker are the perfect
breakfast snack
and can easily be eaten on the go.
Now how do they taste you ask? Well they received not only a thumbs up from me, but my 3 picky boys, yes I am including my husband in that count.. My toddler, who is particularly picky, ate 1 1/2 bars in one sitting with simply a smile on his face, just look at his picture below. I had to quickly grab my camera and take a pic before he gobbled the entire snack bar up. Each bar is only 140 calories but packed full of nutrition. With each satisfying bar you will get 5 grams of fiber, 20% of your daily value of B vitamins, and 6 grams of protein. The protein is my favorite part since the vast majority of snack bars out there have little to no protein. It's the combination of fiber and protein that really provide you with a filling snack, aiding in weight loss. As you may know, I have lost about 100 pounds, and kept it off for several years now. I have done so by eating frequent small meals, high in fiber and protein. These snack bars are going to make my meal and snack planning a lot easier. They will certainly be a new staple in our pantry.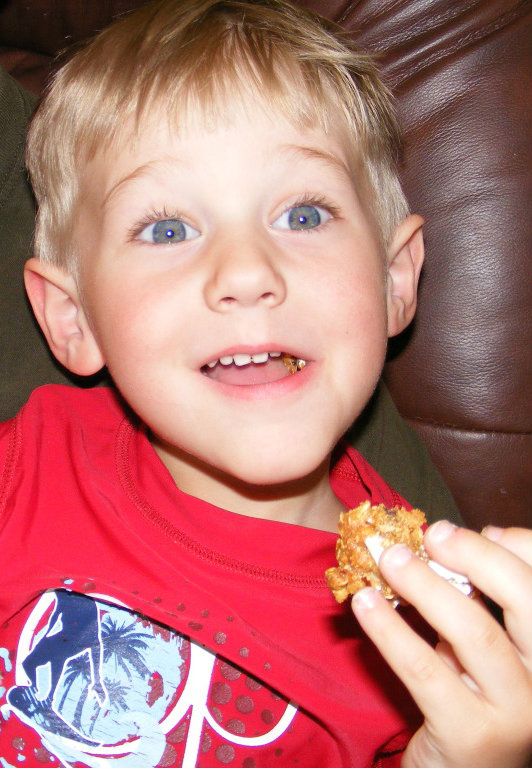 I was sent both the Banana Nut Bread and Cinnamon Pecan Bread flavored Soft Baked Bars to review. Picking a favorite is really hard, since they both are so good. I have always loved Banana Bread, however I am leaning towards the Cinnamon Pecan Bread variety since it has the icing on top, and is just a bit sweeter. Don't take my word for it, go pick up a box of each. I promise you will be amazed by how good these wholesome bars taste. Your kids will love them too. To enjoy them hot, all you have to do is open one end of the package to vent, and microwave for 10 seconds. Could breakfast on the go get any easier?