This is a Sponsored post written by me on behalf of
Revlon
for
SocialSpark
. All opinions are 100% mine.
Revlon is inspiring women all over the world to express themselves. One of the easiest ways to express yourself, feel empowered, and in charge of your day, is by putting your best foot forward. Revlon is making a difference by helping women all over the world take charge of their lives. By giving us the tools we need to not only express ourselves, but to challenge ourselves to try bold new looks, that we have never felt brave enough to try on your own.
Revlon sent me several fabulous new products to not only review but to challenge myself in their
Revlon Expression Experiment
. By heading to
Revlon Expression Experiment
on Facebook, you will find inspiration, tools, tips, and the latest news on these wonderful products. Revlon really wants women to express themselves as individuals. They have provided women with a few challenges to try with their makeup routine. I knew right away, I would take the "Red Lipstick Challenge". I have never found myself up for wearing red lipstick. I always felt like I couldn't get the right shade for my fair skin. I was really surprised when the three bright shades of lip color they sent me all looked amazing on. My favorite, if I had to choose, was the Revlon ColorBurst Lip Butter in Cherry Tart. The
lipstick
felt hydrating for my lips, and the shade was fierce yet easy to wear. For the first time I am wearing red
lipstick
that looks great on, and makes me feel empowered. The color looks much richer in person. It really made me feel more confident. I will never be to timid to express myself in red lips again.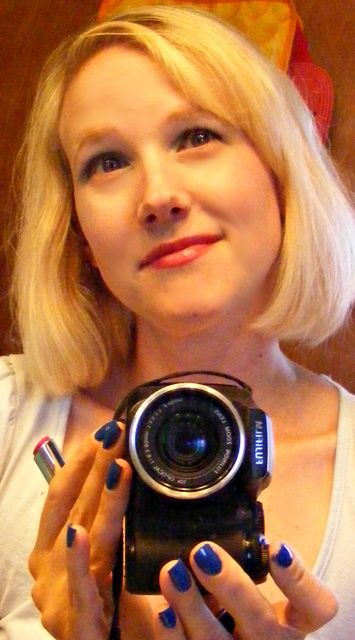 Revlon also sent me new
nail polish
to try. Pictured above I am wearing Revlon ColorStay Long Wear Nail Enamel in Indigo Night. They sent me their Revlon ColorStay Base Coat and Top Coat to use with the polish. First I must admit that I am horrible about skipping base coats, and they really do make a difference. The base coat worked really well at covering little chips and cracks I get on the ends of my nails from jewelry making. The Indigo Night color was fierce and fabulous, and it covered like a dream. This is not one of those crappy nail polishes, that need 2 or 3 coats to get the color you were expecting. I only needed one coat for the rich color you see above. The top coat worked great at amplifying the shine, and protecting my color for a long lasting look, and it dried quickly too!
Revlon also sent me their
makeup primer
and
eye shadow
. The Revlon PhotoReady Color Correcting Primer feels amazing going on. You have to try it to understand. It was like cashmere on my face, I wanted to keep putting more and more on, just to feel it on my skin. It worked really well at priming my face, filling in little cracks, and preparing my skin for concealer. It also helped keep my eye shadow in place. I personally struggle with having a small eye lid, and slightly droopy brow line, which only gets worse with age. My eye shadow typically likes to flake off, but with Revlon's Color Stay 16 hour
eye shadow
I had no problem. I applied the shadow as directed to on the back of the product, for an instant eye lift. It was really easy to follow the application directions. They also sent me the Revlon PhotoReady Eye Primer and Brightener. I applied it under my eye, to give me a fresh bright look, as if I got 8 hours of sleep, when in actuality I got less then 4 hours in the pictures above. I often don't apply liner or mascara to my bottom lashes because I like the dramatic vintage romance look of only wearing it on your top lash.
I also on a personal note, have been crying a lot lately, more on that to come in a new post. By wearing no liner or mascara on the bottom line I don't have to worry about looking like a raccoon.
Pictured below are only some of the new amazing products Revlon sent me. I was impressed with each and every item.
Thank you Revlon not only for the amazing products, but for helping me feel fierce when I really needed it most. Please stay tuned for some big news at Bacon Time. In the mean time, I would love to hear what you think about my new makeup look. I would also love to have you to try the Revlon Expression Experiment for yourself.