This is a Sponsored post written by me on behalf of Comfort Zone® products for SocialSpark. All opinions are 100% mine.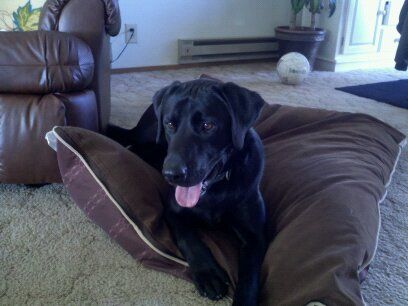 My family has two pets, my husbands work partner and search dog Joker, and our family lab Doug. Both dogs are well trained, but they can become stressed over simple things. For example, Joker can get stressed when she is away from my husband.  She will pace, and wait by the door,until he returns.  Doug is easily excitable, and has an annoying tendency to cry when he doesn't get his way. During the holiday season, family pets  environments change often. They may become irritated or stressed with large family gatherings, travel, kenneling, being left alone, or change in their regular meal and walk times. All of these changes can cause stress for your pet and trigger pets to misbehave.
their natural pheromones. These pheromones help them feel calm and comfortable in their environment, reducing bad behavior such has crying, chewing, yelping, digging, wetting, excessive drooling, scratching, panting and more.  It
 helps manage stress-related behavior in dogs caused by thunderstorms, loud noises like fireworks, adjusting to a new environment, transitions, being left alone or traveling. 
 It can also help to manage nighttime whining during puppy transition from the shelter/breeder to a new home.
 Cat lovers there is help for you too. Their products are 95% effective at relieving stress-related bad behavior in cats as well. You can find Comfort Zone®  products at pet specialty stores including PetSmart and Petco, independent pet stores, and online.
     We have been using Comfort Zone® with D.A.P.® for over 30 days now, and already see our dogs calming down. It is recommended to wait 90 days, to see the full effect of Comfort Zone® with D.A.P.®. Since we live in chilly Northern California, in Fall and Winter, we kennel our lab inside the house, over night. He loves to be outside, and can sometimes yelp at night when we bring him in. Since using Comfort Zone® with D.A.P.® the yelping has ceased. I simply plug in the air diffuser in the closest outlet to his kennel.
    If you have a pet that could benefit from Comfort Zone®  products, and their easy to use calming pheromone air diffusers, please leave a comment below. You may stay up to date with Comfort Zone®  products by visiting their Facebook page.