If you have been to my Etsy shop recently, then you have probably seen this polymer clay ring, and others I have made. I am going to let you in on a little secret, it's not that hard to make, it just takes a few materials from the craft store, and a little time. This ring could be worn year round, but I find it especially fun for Christmas. I am going to share with you how to make some calorie free milk and cookies for Santa. I have included links below to one of my favorite craft stores Wholeport, where I have found many of my supplies for this jewelry craft.
Disclosure: Wholeport did not sponsor this post, and all opinions are 100% mine.
Materials:
Blank Adjustable Ring
E-6000 Jewelry Glue (also available at Wholeport)
Black Permanent Fine Point Sharpie
Glossy Accents Gel
Plastic Wrap
Directions:
You will use the plastic wrap to line your miniature mug, so that the white clay (milk) will come out easily, and be ready for baking. Once the inside of your mug is lined with plastic wrap, press white polymer clay into the mug. Use plastic wrap to pull out white clay, without denting it, and place on your baking sheet. Then make your cookies using the brown polymer clay. You could add flecks of black clay, to resemble chocolate chips, or you could sharpie them on later, as I did. For the cookies, I simply made small little balls, then flattened them with my fingers. Place on baking sheet along with your white clay. Bake as directed to on your polymer clay packaging. Once cool, draw little black dots on cookies, to represent chocolate chips. Next glue your plate to your ring blank with jewelry glue. Then put a little glue in the bottom of your mug, and place your milky white clay into the mug, press to secure. Now glue your cup of milk to your plate. Then glue your cookies very carefully around the cup of milk. Optional, cover with a thin layer of Glossy Accents Gel, to give milk and cookies a shiny appearance, and help secure them even further to the cup and mug. Let dry for 48 hours prior to wearing, covered, to avoid dust.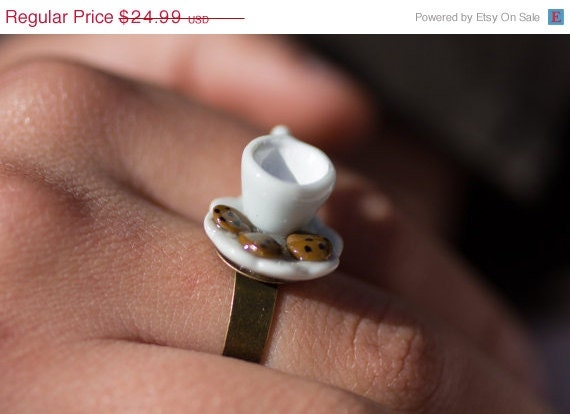 If you enjoyed my DIY Polymer Clay Milk and Cookies For Santa Ring, please share it on Facebook, Pinterest, and Twitter. I have a super cute, hot chocolate and marshmallow ring, I will be sharing how to make soon too.
Well that's what I have been up to, what about you? Come share at our Anything Goes Weekly linky party.