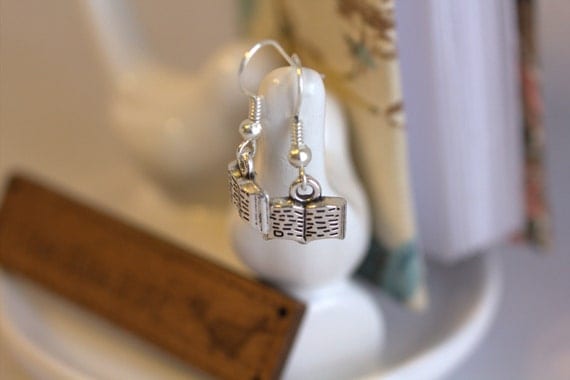 The people who leave comment #1 and #50 today will win a pair of these book earrings from my shop
TLC Creations
! Please read rules below.
Want to win these book earrings? Do you love big books like me? I admit I read books on my kindle, but there is something to be said about a big book in my hand, that just feels right. These earrings have been very popular in my shop, and are available in antique bronze too. I have decided to start sponsoring more giveaways from my shop at our weekly linky parties!!! We will have
two winners
this week!!!
The first person to leave a blog post comment on this post, letting me know their favorite item from my shop, will win a FREE pair of book earrings, in antique silver or antique bronze. The person who leaves the 50th comment on this blog post, again letting me know their favorite item from my shop, will also receive a FREE pair of book earrings!
This giveaway will
expire
in one week or sooner if we receive 50 comments, and is open to US residents. Note if you live outside of the USA, and would like to enter, you may, but you will be responsible for shipping fees. Yes
you are allowed to leave more then one
comment
, please don't delete your comments, simply comment again if you like. Feel free to share this giveaway, to speed up the comment process, so that we can make sure to have two winners each week. I am hoping it will be a fun race to see who can get their comment in at the right time.
Remember this week you need to comment on your favorite item from my shop.
If you are the first comment or 50th and don't let me know what your favorite item is, I will move on to the next comment to select a winner. Sound like fun, I hope so. If this is well received, I will do my best to sponsor a different giveaway each week. Since the first comment will be a winner often, it might pay to follow this blog via Email, Facebook, Twitter, Google, or however you prefer to follow. Winners will be announced at the next linky party, please check back to see if you won.
Now for some features:
A DIY Wedding
shared by Mommy Like Whoa.
Funny Printable For Chocolate Lovers
shared by Kims Kandy Kreations.

Now let's party!