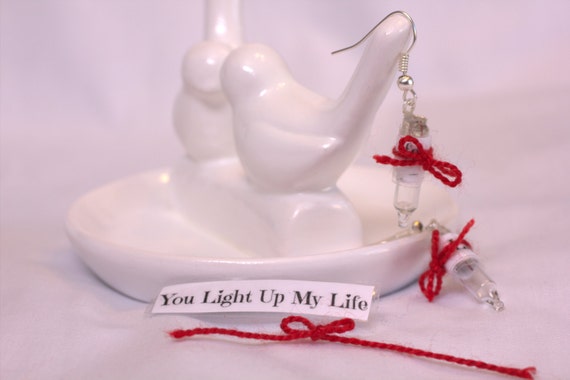 For Christmas, I shared how to make your very own light bulb earrings, using Christmas lights. Now with a few added steps, you may make a unique pair of Valentine earrings for someone you love. These tiny real light bulb earrings have little notes wrapped around them and secured with red string. The notes read "You Light Up My Life".
Clear or Red Tiny Replacement Bulbs
Tiny Notes "You Light Up My Life"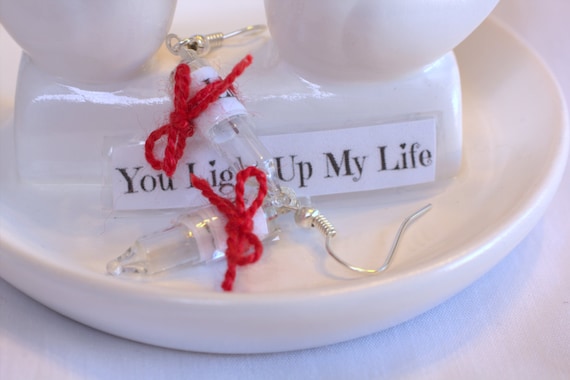 Trim the two wires off the top of bulbs. Open folding crimps, and mold and shape around the top of bulbs. Glue bulbs to open folding crimps. Let dry, before hanging on earring findings, using needle nose pliers. Next print out on computer, or hand write, tiny notes that read "You Light Up My Life". I used a font on PicMonkey that has hearts in it. Feel free to right click, save, and print, the image above. I chose to laminate my notes with clear packing tape. You will need to roll as tight as possible the notes around the bulbs. Then you will secure with red string, tying tightly.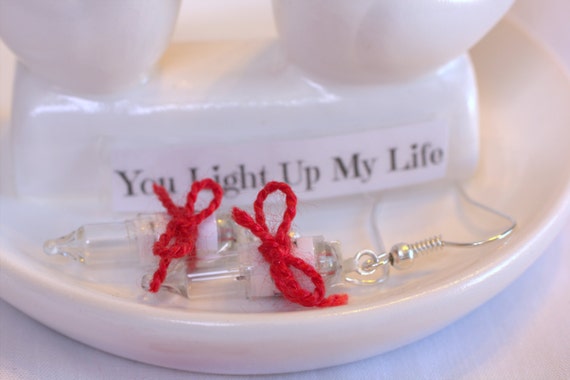 Not feeling to crafty, but want the earrings. They are still available in my shop TLC Creations.
Well that's what I have been up to, what about you? Come share at our weekly Anything Goes linky party.