This is a Sponsored post written by me on behalf of
eCards from American Greetings
for
SocialSpark
. All opinions are 100% mine.
Paper cards are great, but sometimes you want to do more for your friends, family,

and coworkers on their special day. American Greetings makes it easy to

Make your American Greetings eCard now

. It's easy to customize a music video

eCard

for anyone. The best part, you can create and send it all on one day, keeping you from being late. American Greetings

eCards

lets you pick the music video, then customize the lyrics based on your selections. You select the name of the recipient, add some funny personalization, to fit their personality, and boom your done. You can then send the eCard to their Facebook, email, or direct to their mobile device! You can even easily attach a gift card, to make their day really rock. We are not just talking birthdays either, they have musical video

eCards

great for Father's Day, Mother's Day, and more. You get to preview the

eCard

too, so you know exactly what your recipient will see.

Learn more

now!
My youngest is turning 5 next month! I would love to send him a Feline Crazy eCard, Pictured below.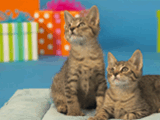 My youngest loves kitties. We don't have any cats, because of my allergies, but when we visit friends that do, he is always excited to play with them. The funny thing is, he has trouble making the "k" sound, it comes out sounding like a "t", which makes for an interesting conversation, when he talks about kitties! I know he would love this eCard.
Membership at American Greetings eCards is a great value. For the average cost of one store bought paper card, you can have membership for an entire month. That's right for $3.99 you can make as many eCards as you want for an entire month. You are saving even more, when you consider you don't need to buy stamps. For $19.99 you can have a year membership, and for $29.99 a 2 year membership. That's a great value. All the eCards are included in these memberships. You may also try out their eCards free with a 7-Day Free Trial Membership! There are no excuses for not staying in touch with the ones you care about. American Greetings eCards are affordable, easy, and fun to send. Letting you personalize and send the exact message you want, at any time. Which eCards will you be sending soon to your friends and family? For more info like American Greetings on Facebook.