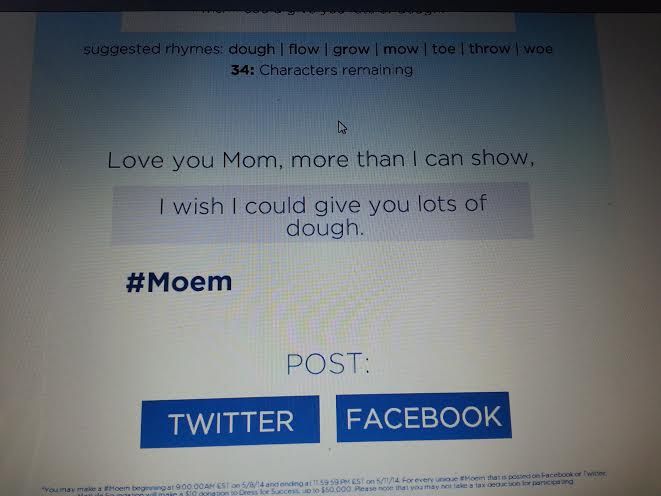 Mother's Day is this Sunday! I have a great Mother's Day gift that is free to make, and will also help raise money for mother's in need! Thanks to MetLife, we can create in seconds a "Moem" a short poem for our mom, or a special mother in our lives, and they will donate $10 for each one to Dress For Success. Dress For Success supports women in search of economic independence, by helping them dress for the successful job they desire. MetLife is honoring all moms around the world with their charitable donation.
You don't have to be a poet to make a difference in your mom's life, and moms around the world. I made my
#Moem
, it's easy. A Moem is a tribute poem written and posted on social channels, preferably rhyming, in 135 characters or less. My Moem is pictured above. Here are two more examples:
"Of all the special joys in life, the big ones and the small. Spending today
with my Mom, is the greatest of them all. #moem"
"I forget around this time, almost every year, I owe it to her to say thank you, to my beautiful Mother dear. #moem"
You don't have to be very poetic. The Moem Maker will help you create a tribute poem in seconds. Check out the Moem Maker here
www.www.moemmaker.com
for a little help to get you started. Then post your tribute to your Mom on Facebook and Twitter with the hashtag #moem for the world to see. You can use their easy share button for Twitter and Facebook. I shared mine on both Twitter and Facebook. When you create a Moem
Dress for Success
will reap the rewards. Remember for every Moem posted, MetLife will donate $10 toward Dress for Success. Their goal is $50,000, let's see if we can make it happen. Note, while you can make Moems after Mother's Day, the donations end at Midnight on Mother's day, so get to Moeming! Then spread the word, tell your friends to make a Moem too! Let's pay tribute to our moms, and help make a difference in other moms' lives as well.