I contemplated titling this post "Surprises" because it shares many! When I returned from my radiation therapy out of state, this Summer, my husband gave me a big surprise. While I was gone, he tackled our tiny master bathroom. The transformation brought tears to my eyes. Before it was hideous, I am talking holes in the sink, where there shouldn't be holes, worn out linoleum, an ugly cabinet, and lack of storage, were just a few of the many problems.
My husband installed new linoleum flooring, a wall cabinet, matching vanity with sink, magnifying wall mirror, large mirror, new faucet, and repainted. We had already installed new lighting, a while back.
I love that the sink cabinets don't go all the way to the ground, it let's me hide my bathroom scale underneath it, saving floor space in my little bathroom.
It's still a tiny bathroom, but at least it's much prettier, and more functional, with lots more storage space.
This week another sweet surprise came in the mail!
Beautiful packaging don't you think?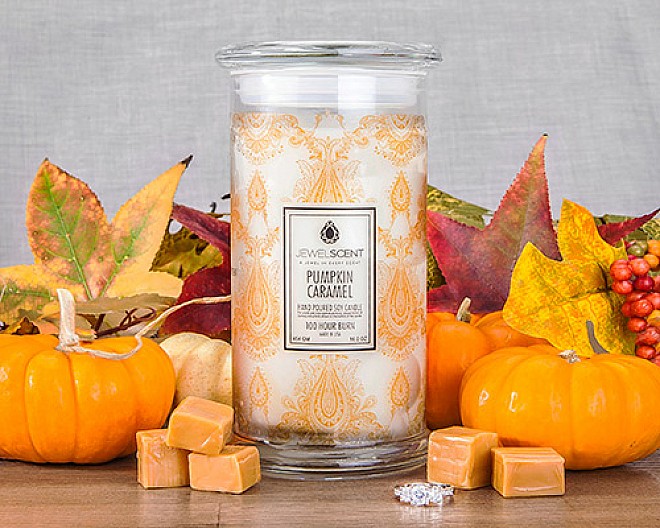 Now that Fall is approaching, I have started accessorizing my new bathroom with some seasonal
feminine
touches, like my new Pumpkin Caramel candle. Of course every bathroom needs a scented candle. This one was sent to me from Heather at
www.jewelscent.com/HeatherSmith.
You probably know Heather, she is the stunning blogger of
Woods Of Bell Trees.
Why are they called JewelScents, well every candle, fragrance, and soap contains a FREE jewel valued between $10 and $7,500! Another glorious surprise for me! The candles on their own are amazing, intoxicating, and soy based. The fact that it has a hidden treasure inside, is the icing on the pumpkin cake. Keep reading, to see what jewelry was inside of my candle!
Another surprise, my 12 year old son, made me this magazine wrack, while he was visiting his Nanna and Papaw, this Summer. It was a lovely birthday surprise. I am using it to store towels and toilet paper. It sits right outside my bathroom, and is very useful storage space.
I wish you could smell this candles heavenly scent of pumpkin, cinnamon, cloves, vanilla, and buttery caramel.
In a short while, I will have one more surprise, another piece of jewelry hidden in my new candle!
I think I may have rushed it, and probably should have let the wax melt a little more, but with a little tug from my tweezers, a surprise came out!
The jewelry is protected inside a zip-lock plastic bag, inside of gold foil.
OMG, serendipity, or Heather's magic, either way, it's my birthstone! Want to know what my ring appraised at, visit Heather's JewelScents site, go to the appraise tab, at the bottom of the site, and enter the code on my ring, PP36. Want your own surprise, then order some products from Heather's JewelScents site! It's so much fun, and truly the gift that keeps on giving.
Well I think a bath is calling my name. What have you been up to? Please come share at our Anything Goes weekly linky party.
Thank you Jerry, for my BIG little bathroom surprise! Thank you Heather for the amazing candle, and jewelry! Thank you Joshua, my DIY tween!
Disclosure:
This is NOT a sponsored post, or affiliate links. I participated in a
Swap And Tell
with Heather, at Woods Of Bell Trees. If you would like to join the fun, visit her weekly Swap And Tell linky party.