If you have been to my online shop, then you may have seen my hot chocolate ring. This ring is perfect for the hot chocolate lover, and makes a great Winter accessory. The majority of the materials used for the ring were found at
Wholeport
. Here is how you can make one yourself:
Materials:
Miniature Teacup
Miniature Plate
White Polymer Clay
Brown Polymer Clay
Adjustable Ring with Blank
Jewelers Glue
Plastic Wrap
Optional, Clear Acrylic Sealer Spray or Clear Nail Polish
Directions:
Line your miniature cup with plastic wrap. Press the desired amount of brown polymer clay into the mug, make sure you leave a little room for glue to be added later. Use the plastic wrap to easily remove your clay from mug, set aside for baking. Roll a small amount of white clay into a snake like shape. Using your polymer clay tools, or a knife, cut your white clay into marshmallow pieces. Now you will need to bake your clay as directed to on package. Once baked and cool, glue your hot chocolate and marshmallows onto your miniature cup and plate. Then glue your cup onto your plate, and plate onto ring blank. Let dry per glue package directions. If you would like the clay to look shiny, you may spray it with a sealer, or apply a coat of clear polish.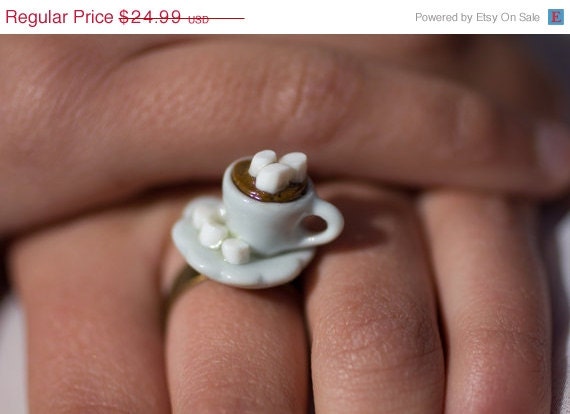 You may also purchase this ring at my shop
TLC Creations
, where it is currently on sale.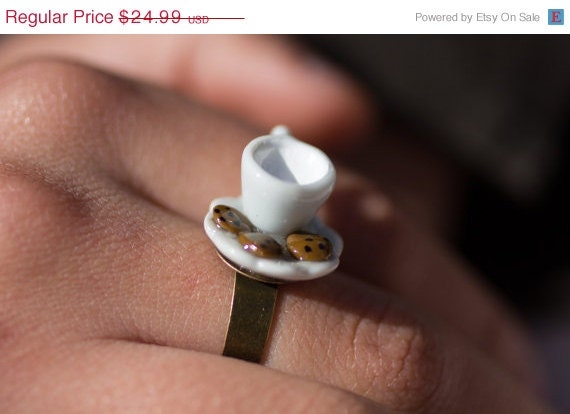 My milk and cookies ring is also currently on sale. You can find a tutorial for it on my DIY page.
Well that's what I have been up to, what about you? Come share at our weekly Anything Goes linky party.